Acidra
Twin Snake Pokémon

Basic Info

Type
Abilities
Blaze
Evolves From
Serpyre
Evolves Into
Pyrolisk

Additional Info

Held Items
None
Egg Groups
Field

Dragon

Hatching Time
-
Catch Rate
45
Gender Ratio
87.5% male
Height
1.8 m
Weight
23 kg
Leveling Rate
Medium-Slow
Base XP Yield
142
EV Yields
+2 Sp. Defense
Pokédex Color
Red
Acidra is a dual-type Fire/Poison Pokémon. It evolves from Serpyre starting at level 16 and evolves into Pyrolisk starting at level 36.
Pokédex entry
Their venom is very flammable, so they often soak their foes in it before setting them on fire.
Base stats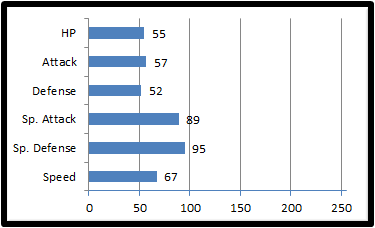 Base Stat Total: 415
Game locations
Type effectiveness
Bold indicates either a 4x weakness or a 4x resistance, depending on the column.
Damaged normally by:
Weak to:
Immune to:
Resistant to:

Normal

Flying

Ghost

Electric

Dragon

Dark

Digital

Ground

Rock

Water

Psychic

Cosmic

None

Fighting

Poison

Bug

Steel

Fire

Grass

Ice

Fairy
Learnset
Bold indicates a move that will receive STAB when used by Acidra.
Italic indicates a move that will receive STAB when used by an evolution of Acidra.
By leveling up
| Level | Move | Type | Cat. | Pwr. | Acc. | PP |
| --- | --- | --- | --- | --- | --- | --- |
| 1 | Tackle | | Physical | 50 | 100 | 35 |
| 1 | Tail Whip | | Status | - | 100 | 30 |
| 6 | Ember | | Special | 40 | 100 | 25 |
| 8 | Wrap | | Physical | 15 | 90 | 20 |
| 10 | Smokescreen | | Status | - | 100 | 20 |
| 14 | Smog | | Special | 30 | 70 | 20 |
| 16 | Sludge | | Special | 65 | 100 | 20 |
| 19 | Coil | | Status | - | - | 20 |
| 21 | Acid Spray | | Special | 40 | 100 | 20 |
| 25 | Flame Burst | | Special | 70 | 100 | 15 |
| 30 | Fire Fang | | Physical | 65 | 95 | 15 |
| 34 | Flamethrower | | Special | 90 | 100 | 15 |
| 38 | Sludge Bomb | | Special | 90 | 100 | 10 |
| 43 | Fire Blast | | Special | 110 | 85 | 5 |
By TM/HM
| TM/HM | Move | Type | Cat. | Pwr. | Acc. | PP |
| --- | --- | --- | --- | --- | --- | --- |
| TM04 | Calm Mind | | Status | - | - | 20 |
| TM06 | Toxic | | Status | - | 90 | 10 |
| TM10 | Hidden Power | | Special | - | 100 | 15 |
| TM11 | Sunny Day | | Status | - | - | 5 |
| TM12 | Taunt | | Status | - | 100 | 20 |
| TM21 | Frustration | | Physical | - | 100 | 20 |
| TM22 | Solarbeam | | Special | 120 | 100 | 10 |
| TM23 | Iron Tail | | Physical | 100 | 75 | 15 |
| TM27 | Return | | Physical | - | 100 | 20 |
| TM28 | Dig | | Physical | 80 | 100 | 10 |
| TM30 | Shadow Ball | | Special | 80 | 100 | 15 |
| TM32 | Dark Pulse | | Special | 80 | 100 | 15 |
| TM35 | Flamethrower | | Special | 90 | 100 | 15 |
| TM36 | Sludge Bomb | | Special | 90 | 100 | 10 |
| TM38 | Fire Blast | | Special | 110 | 85 | 5 |
| TM40 | Aerial Ace | | Physical | 60 | - | 20 |
| TM42 | Facade | | Physical | 70 | 100 | 20 |
| TM43 | Nasty Plot | | Status | - | - | 20 |
| TM44 | Rest | | Status | - | - | 10 |
| TM46 | Thief | | Physical | 60 | 100 | 10 |
| TM50 | Overheat | | Special | 130 | 90 | 5 |
By breeding
| Move | Type | Cat. | Pwr. | Acc. | PP |
| --- | --- | --- | --- | --- | --- |
| Ancientpower | | Special | 60 | 100 | 5 |
| Rock Slide | | Physical | 75 | 90 | 10 |
| Bite | | Physical | 60 | 100 | 25 |
| Outrage | | Physical | 120 | 100 | 10 |
| Beat Up | | Status | 10 | 100 | 10 |
| Dragon Dance | | Status | - | - | 20 |
| Crunch | | Physical | 80 | 100 | 15 |
| Dragon Pulse | | Special | 90 | 100 | 10 |
| Flare Blitz | | Physical | 120 | 100 | 15 |
By Move Tutor
| Move | Type | Cat. | Pwr. | Acc. | PP |
| --- | --- | --- | --- | --- | --- |
| Double-Edge | | Physical | 120 | 100 | 15 |
| Mimic | | Status | - | 100 | 10 |