Arctyke
Baby Whale Pokémon

Basic Info

Type
Abilities
Torrent
Evolves From
None
Evolves Into
Fispear

Additional Info

Held Items
None
Egg Groups
Field

Water 2

Hatching Time
~5355 steps
Catch Rate
45
Gender Ratio
87.5% male
Height
0.5 m
Weight
8 kg
Leveling Rate
Medium-Slow
Base XP Yield
66
EV Yields
+1 HP
Pokédex Color
Blue
Arctyke is a Water-type Pokémon. It evolves into Fispear starting at level 16, which evolves into Narwinter starting at level 36.
It is one of the three starters given by Prof. Oak, the others being Fungcub and Serpyre.
Pokédex entry
They prefer icy cold water. They use their horn to poke breathingholes in the surface ice.
Base stats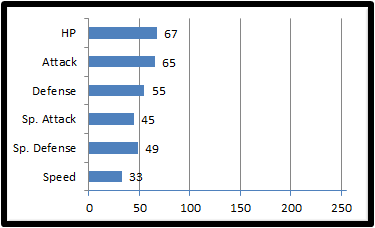 Base Stat Total: 314
Game locations
Given by Prof. Oak as a starter.
Type effectiveness
Damaged normally by:
Weak to:
Immune to:
Resistant to:

Normal

Fighting

Flying

Poison

Ground

Rock

Bug

Ghost

Psychic

Dragon

Dark

Fairy

Grass

Electric

None

Steel

Fire

Water

Ice
Learnset
Bold indicates a move that will receive STAB when used by Arctyke.
Italic indicates a move that will receive STAB when used by an evolution of Arctyke.
Moves by leveling up

| Level | Move |
| --- | --- |
| 1 | Tackle |
| 1 | Growl |
| 6 | Bubble |
| 9 | Water Gun |
| 12 | Fury Attack |
| 16 | Aqua Jet |
| 19 | Headbutt |
| 24 | Water Sport |
| 28 | Aqua Tail |
| 32 | Icicle Spear |
| 36 | Agility |
| 39 | Hydro Pump |
| 42 | Swords Dance |
| 44 | Icicle Crash |
Moves by TM/HM

| TM/HM | Move |
| --- | --- |
| TM03 | Water Pulse |
| TM06 | Toxic |
| TM07 | Hail |
| TM08 | Bulk Up |
| TM10 | Hidden Power |
| TM13 | Ice Beam |
| TM14 | Blizzard |
| TM17 | Protect |
| TM18 | Rain Dance |
| TM20 | Safeguard |
| TM21 | Frustration |
| TM23 | Iron Tail |
| TM27 | Return |
| TM42 | Facade |
| TM44 | Rest |
| TM49 | Hyper Voice |
| HM01 | Razor Chop |
| HM03 | Surf |
| HM07 | Waterfall |
| HM08 | Dive |
Moves by breeding
Move
Haze
Mist
Foresight
Flail
Refresh
Mud Sport
Yawn
Aqua Jet
Brine
Fake Out
Mirror Coat
Muddy Water
Water Spout