Cheroking
Mohawk Pokémon

Basic Info

Type
Mega Form Type
Abilities
Overgrow
Mega Form Abilitiy
Tough Claws
Evolves From
Tomaklaw
Evolves Into
None

Additional Info

Held Items
None
Egg Groups
Field
Hatching Time
-
Catch Rate
45
Gender Ratio
87.5% male
Height
2.3 m
Weight
141 kg
Leveling Rate
Medium-Slow
Base XP Yield
208
EV Yields
+2 Attack

+1 Defense

Pokédex Color
Brown
Cheroking is a dual-type Grass/Steel Pokémon. It evolves from Tomaklaw starting at level 36. It is the final form of Fungcub. It can Mega Evolve into Mega Cheroking using the Cherokinite.
Pokédex entry
Its entire skeleton consists of some sort of organic metal. They are very social Pokémon.
Base stats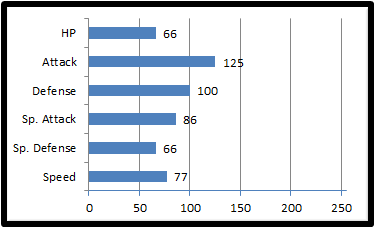 Base Stat Total: 520
Mega Form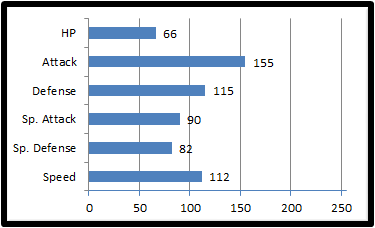 Base Stat Total: 620
Game locations
Type effectiveness
Bold indicates either a 4x weakness or a 4x resistance, depending on the column.
Damaged normally by:
Weak to:
Immune to:
Resistant to:

Flying

Ground

Bug

Ice

Digital

Fighting

Fire

Cosmic

Poison

Normal

Rock

Ghost

Steel

Water

Grass

Electric

Psychic

Dragon

Dark

Fairy
Mega Form
Type effectiveness for Cheroking is unchanged in its Mega Form.
Learnset
Bold indicates a move that will receive STAB when used by Cheroking.
Italic indicates a move that will receive STAB when used by an evolution of Cheroking.
By leveling up
| Level | Move | Type | Cat. | Pwr. | Acc. | PP |
| --- | --- | --- | --- | --- | --- | --- |
| 1 | Iron Head | | Physical | 80 | 100 | 15 |
| 1 | Leaf Blade | | Physical | 90 | 100 | 15 |
| 1 | Iron Leech | | Physical | 80 | 100 | 15 |
| 1 | Spore | | Status | - | 100 | 15 |
| 6 | Absorb | | Special | 20 | 100 | 20 |
| 8 | Headbutt | | Physical | 70 | 100 | 15 |
| 10 | Leech Seed | | Status | - | 90 | 10 |
| 13 | Stun Spore | | Status | - | 75 | 30 |
| 14 | Metal Claw | | Physical | 50 | 95 | 35 |
| 17 | Razor Leaf | | Physical | 55 | 95 | 25 |
| 20 | Growth | | Status | - | - | 40 |
| 23 | Bullet Punch | | Physical | 40 | 100 | 30 |
| 25 | Bullet Seed | | Physical | 25 | 100 | 30 |
| 29 | Mega Drain | | Special | 40 | 100 | 15 |
| 35 | Giga Drain | | Special | 75 | 100 | 10 |
| 36 | Hone Claws | | Status | - | - | 15 |
| 41 | Nature Power | | Status | - | - | 20 |
| 44 | Synthesis | | Status | - | - | 5 |
| 46 | Seed Bomb | | Physical | 80 | 100 | 15 |
By TM/HM
| TM/HM | Move | Type | Cat. | Pwr. | Acc. | PP |
| --- | --- | --- | --- | --- | --- | --- |
| TM02 | Dragon Claw | | Physical | 80 | 100 | 15 |
| TM06 | Toxic | | Status | - | 90 | 10 |
| TM08 | Bulk Up | | Status | - | - | 20 |
| TM09 | Bullet Seed | | Physical | 25 | 100 | 30 |
| TM10 | Hidden Power | | Special | - | 100 | 15 |
| TM11 | Sunny Day | | Status | - | - | 5 |
| TM12 | Taunt | | Status | - | 100 | 20 |
| TM15 | Hyper Beam | | Special | 150 | 90 | 5 |
| TM17 | Protect | | Status | - | - | 10 |
| TM18 | Rain Dance | | Status | - | - | 5 |
| TM19 | Giga Drain | | Special | 75 | 100 | 10 |
| TM21 | Frustration | | Physical | - | 100 | 20 |
| TM22 | Solarbeam | | Special | 120 | 100 | 10 |
| TM23 | Iron Tail | | Physical | 100 | 75 | 15 |
| TM26 | Earthquake | | Physical | 100 | 100 | 10 |
| TM27 | Return | | Physical | - | 100 | 20 |
| TM31 | Brick Break | | Physical | 75 | 100 | 15 |
| TM36 | Sludge Bomb | | Special | 90 | 100 | 10 |
| TM39 | Rock Tomb | | Physical | 60 | 95 | 15 |
| TM40 | Aerial Ace | | Physical | 60 | - | 20 |
| TM41 | Stone Edge | | Physical | 100 | 80 | 5 |
| TM42 | Facade | | Physical | 70 | 100 | 20 |
| TM43 | Nasty Plot | | Status | - | - | 20 |
| TM44 | Rest | | Status | - | - | 10 |
| TM46 | Thief | | Physical | 60 | 100 | 10 |
| TM47 | Flash Cannon | | Special | 80 | 100 | 10 |
| TM48 | Focus Blast | | Special | 120 | 70 | 5 |
| TM49 | Hyper Voice | | Special | 90 | 100 | 10 |
| HM01 | Razor Chop | | Physical | 40 | 100 | 30 |
| HM04 | Strength | | Physical | 90 | 95 | 15 |
| HM06 | Rock Smash | | Physical | 40 | 100 | 15 |
By breeding
| Move | Type | Cat. | Pwr. | Acc. | PP |
| --- | --- | --- | --- | --- | --- |
| Skull Bash | | Physical | 130 | 100 | 10 |
| Charm | | Status | - | 100 | 20 |
| Magical Leaf | | Special | 60 | - | 20 |
| Grasswhistle | | Status | - | 55 | 15 |
| Curse | | Status | - | - | 10 |
| Amnesia | | Status | - | - | 20 |
| Endure | | Status | - | - | 10 |
| Ingrain | | Status | - | 100 | 20 |
| Leaf Storm | | Special | 130 | 90 | 5 |
| Sludge | | Special | 65 | 100 | 20 |
By Move Tutor
| Move | Type | Cat. | Pwr. | Acc. | PP |
| --- | --- | --- | --- | --- | --- |
| Mega Punch | | Physical | 80 | 85 | 20 |
| Swords Dance | | Status | - | - | 20 |
| Mega Kick | | Physical | 120 | 75 | 5 |
| Body Slam | | Physical | 85 | 100 | 15 |
| Double-Edge | | Physical | 120 | 100 | 15 |
| Counter | | Physical | - | 100 | 20 |
| Seismic Toss | | Physical | - | 100 | 20 |
| Mimic | | Status | - | 100 | 10 |
| Rock Slide | | Physical | 75 | 90 | 10 |