Grenura
Seedling Pokémon

Basic Info

Type
Abilities
Chlorophyll

Moody

Evolves From
None
Evolves Into
Cherriom

Additional Info

Held Items
Cheri Berry
Egg Groups
Plant
Hatching Time
~2805 steps
Catch Rate
190
Gender Ratio
50% male
Height
0.5 m
Weight
4.3 kg
Leveling Rate
Medium-Fast
Base XP Yield
91
EV Yields
+1 Sp. Defense
Pokédex Color
Green
Grenura is a Grass-type Pokémon. It evolves into Cherriom when leveled up with high friendship during the day.
Pokédex entry
Their two heads often disagree, sometimes loud enough to make them an easy target for predators.
Base stats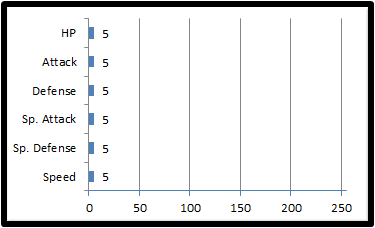 Base Stat Total: 320
Game locations
Routes 12, 13, 14 and 15.
Type effectiveness
Bold indicates either a 4x weakness or a 4x resistance, depending on the column.
Damaged normally by:
Weak to:
Immune to:
Resistant to:

Normal

Fighting

Rock

Ghost

Steel

Psychic

Dragon

Dark

Fairy

Flying

Poison

Bug

Fire

Ice

Cosmic

None

Ground

Water

Grass

Electric

Digital
Learnset
Bold indicates a move that will receive STAB when used by Grenura.
Italic indicates a move that will receive STAB when used by an evolution of Grenura.
Moves by leveling up

| Level | Move |
| --- | --- |
| 1 | Pound |
Moves by TM/HM

| TM/HM | Move |
| --- | --- |
| TM01 | Moonblast |
Moves by breeding
Move
Pound
Community content is available under
CC-BY-SA
unless otherwise noted.