Hatchik
Hatchling Pokémon

Basic Info

Type
Abilities
Rivalry

Run Away

Evolves From
None
Evolves Into
Albatess

Additional Info

Held Items
Sharp Beak
Egg Groups
Flying
Hatching Time
~4080 steps
Catch Rate
215
Gender Ratio
50% male
Height
0.4 m
Weight
4.6 kg
Leveling Rate
Medium-Fast
Base XP Yield
96
EV Yields
+1 HP
Pokédex Color
Brown
Hatchik is a dual-type Normal/Flying Pokémon. Hatchik's evolutions are gender dependent: female Hatchik evolve into Albatess, and male Hatchik evolve into Phisking, both starting at level 42.
Pokédex entry
These newborn chicks are hardly even able to fly, but use their strong legs to jump around.
Base stats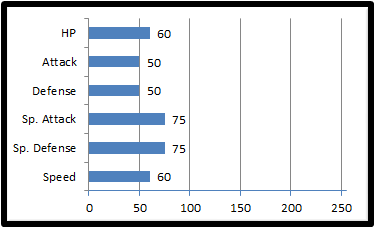 Base Stat Total: 370
Game locations
Berry Forest, Cape Brink, Bond Bridge, Five Isle Meadow, Ruin Valley (Grass)
Type effectiveness
Bold indicates either a 4x weakness or a 4x resistance, depending on the column.
Damaged normally by:
Weak to:
Immune to:
Resistant to:

Normal

Fighting

Flying

Poison

Steel

Fire

Water

Psychic

Dragon

Dark

Fairy

Rock

Electric

Ice

Cosmic

Ground

Ghost

Bug

Grass

Digital
Learnset
Bold indicates a move that will receive STAB when used by Hatchik.
Italic indicates a move that will receive STAB when used by an evolution of Hatchik.
By leveling up
| Level | Move | Type | Cat. | Pwr. | Acc. | PP |
| --- | --- | --- | --- | --- | --- | --- |
| 1 | Growl | | Status | - | 100 | 40 |
| 1 | Gust | | Special | 40 | 100 | 35 |
| 6 | Sand-Attack | | Status | - | 100 | 15 |
| 9 | Work Up | | Status | - | - | 20 |
| 12 | Double Team | | Status | - | - | 15 |
| 16 | Vacuum Wave | | Special | 40 | 100 | 30 |
| 19 | Air Cutter | | Special | 60 | 95 | 25 |
| 21 | Uproar | | Special | 50 | 100 | 10 |
| 24 | Twister | | Special | 40 | 100 | 20 |
| 28 | Featherdance | | Status | - | 100 | 15 |
| 31 | Attract | | Status | - | 100 | 15 |
| 35 | Roost | | Status | - | - | 10 |
| 38 | Teeter Dance | | Status | - | 100 | 20 |
| 43 | Air Slash | | Special | 75 | 95 | 15 |
| 46 | Perish Song | | Status | - | - | 5 |
| 50 | Hyper Voice | | Special | 90 | 100 | 10 |
| 54 | Hurricane | | Special | 110 | 70 | 10 |
By TM/HM
TM/HM
Move
Type
Cat.
Pwr.
Acc.
PP
TM06
Toxic

Status
-
90
10
TM10
Hidden Power

Special
-
100
15
TM17
Protect

Status
-
-
10
TM18
Rain Dance

Status
-
-
5

TM

20
Safeguard

Status
-
-
25
TM21
Frustration

Physical
-
100
20
TM27
Return

Physical
-
100
20
TM40
Aerial Ace

Physical
60
-
20
TM42
Facade

Physical
70
100
20
TM44
Rest

Status
-
-
10
TM45
Roost

Status
-
-
10
TM46
Thief

Physical
60
100
10
TM49
Hyper Voice

Special
90
100
10
By breeding
| Move | Type | Cat. | Pwr. | Acc. | PP |
| --- | --- | --- | --- | --- | --- |
| Aura Sphere | | Special | 80 | - | 20 |
| Bug Buzz | | Special | 90 | 100 | 10 |
| Ominous Wind | | Special | 60 | 100 | 5 |
| Fiery Dance | | Special | 80 | 100 | 10 |
| Sing | | Status | - | 55 | 15 |
| Heat Wave | | Special | 100 | 90 | 10 |
By Move Tutor
| Move | Type | Cat. | Pwr. | Acc. | PP |
| --- | --- | --- | --- | --- | --- |
| Swords Dance | | Status | - | - | 20 |
| Double-Edge | | Physical | 120 | 100 | 15 |
| Mimic | | Status | - | 100 | 10 |
| Substitute | | Status | - | - | 10 |