Kelprey
Data Leech Pokémon

Basic Info

Type
Abilities
Dry Skin

Swift Swim

Evolves From
Seechul
Evolves Into
None

Additional Info

Held Items
Miracle Seed
Egg Groups
Water 1

Grass

Hatching Time
-
Catch Rate
45
Gender Ratio
50% male
Height
1.8 m
Weight
79 kg
Leveling Rate
Medium-Slow
Base XP Yield
202
EV Yields
+2 Sp. Attack

+1 Sp. Defense

Pokédex Color
Yellow
Kelprey is a dual-type Grass/Digital Pokémon. It evolves from Seechul when exposed to a Leaf Stone. It is the final form of Kelpad.
Pokédex entry
Wherever they live, Kelprey will try to gather data on all nearby plants to help them thrive.
Base stats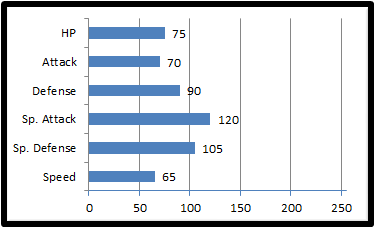 Base Stat Total: 525
Game locations
Type effectiveness
Bold indicates either a 4x weakness or a 4x resistance, depending on the column.
Damaged normally by:
Weak to:
Immune to:
Resistant to:

Normal

Fighting

Flying

Rock

Ghost

Water

Electric

Dragon

Poison

Bug

Fire

Ice

Cosmic

None

Ground

Steel

Grass

Psychic

Dark

Fairy

Digital
Learnset
Bold indicates a move that will receive STAB when used by Kelprey.
Italic indicates a move that will receive STAB when used by an evolution of Kelprey.
By leveling up
| Level | Move | Type | Cat. | Pwr. | Acc. | PP |
| --- | --- | --- | --- | --- | --- | --- |
| 1 | Ingrain | | Status | - | 100 | 20 |
| 1 | Water Sport | | Status | - | 100 | 15 |
| 1 | Muddy Water | | Special | 90 | 85 | 10 |
| 1 | Earth Power | | Special | 90 | 100 | 10 |
| 1 | Worry Seed | | Status | - | 100 | 10 |
| 1 | Leech Seed | | Status | - | 90 | 10 |
| 1 | Giga Drain | | Special | 75 | 100 | 10 |
| 1 | Data Storm | | Special | 95 | 90 | 10 |
By TM/HM
TM/HM
Move
Type
Cat.
Pwr.
Acc.
PP
TM03
Water Pulse

Special
60
100
20
TM04
Calm Mind

Status
-
-
20
TM05
U-turn

Physical
70
100
20
TM06
Toxic

Status
-
90
10
TM09
Bullet Seed

Physical
25
100
30
TM10
Hidden Power

Special
-
100
15
TM11
Sunny Day

Status
-
-
5
TM12
Taunt

Status
-
100
20
TM15
Hyper Beam

Special
150
90
5
TM17
Protect

Status
-
-
10
TM18
Rain Dance

Status
-
-
5
TM19
Giga Drain

Special
75
100
10

TM

20
Safeguard

Status
-
-
25
TM21
Frustration

Physical
-
100
20
TM22
Solarbeam

Special
120
100
10
TM23
Iron Tail

Physical
100
75
15
TM24
Thunderbolt

Special
90
100
15
TM25
Thunder

Special
110
70
10
TM27
Return

Physical
-
100
20
TM28
Dig

Physical
80
100
10
TM34
Shock Wave

Special
60
-
20
TM36
Sludge Bomb

Special
90
100
10
TM40
Aerial Ace

Physical
60
-
20
TM42
Facade

Physical
70
100
20
TM43
Nasty Plot

Status
-
-
20
TM44
Rest

Status
-
-
10
TM46
Thief

Physical
60
100
10
TM49
Hyper Voice

Special
90
100
10
HM03
Surf

Special
90
100
15
HM04
Strength

Physical
90
95
15
HM05
Blitz

Special
80
100
15
HM07
Waterfall

Physical
80
100
15
HM08
Dive

Physical
45
100
10
By breeding
| Move | Type | Cat. | Pwr. | Acc. | PP |
| --- | --- | --- | --- | --- | --- |
| Bubblebeam | | Special | 65 | 100 | 20 |
| Water Sport | | Status | - | 100 | 15 |
| Encore | | Status | - | 100 | 5 |
| Endeavor | | Physical | - | 100 | 5 |
| Mud Shot | | Special | 55 | 95 | 15 |
| Refresh | | Status | - | 100 | 20 |
| Water Pulse | | Special | 60 | 100 | 20 |
| Vital Drain | | Special | 100 | 85 | 15 |
| Leaf Tornado | | Special | 65 | 90 | 10 |
| Leaf Storm | | Special | 130 | 90 | 5 |
By Move Tutor
| Move | Type | Cat. | Pwr. | Acc. | PP |
| --- | --- | --- | --- | --- | --- |
| Swords Dance | | Status | - | - | 20 |
| Body Slam | | Physical | 85 | 100 | 15 |
| Double-Edge | | Physical | 120 | 100 | 15 |
| Mimic | | Status | - | 100 | 10 |
| Thunder Wave | | Status | - | 100 | 20 |
| Substitute | | Status | - | - | 10 |