Skeleteak
Withered Pokémon

Basic Info

Type
Abilities
Cursed Body

Rock Head

Evolves From
Morteak
Evolves Into
None

Additional Info

Held Items
None
Egg Groups
Plant

Chaos

Hatching Time
-
Catch Rate
45
Gender Ratio
50% male
Height
1.9 m
Weight
104 kg
Leveling Rate
Medium-Slow
Base XP Yield
205
EV Yields
+2 Attack

+1 Defense

Pokédex Color
Brown
Skeleteak is a dual-type Grass/Ghost Pokémon. It evolves from Morteak when exposed to a Dusk Stone. It is one of the final forms of Budora, the other being Heliora.
Pokédex entry
They pierce other plants with their antlers to absorb energy, leaving the plant completely dead.
Base stats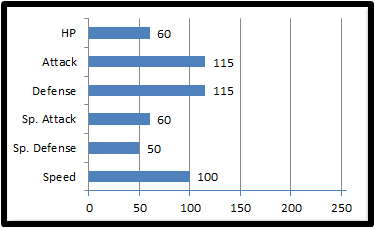 Base Stat Total: 500
Game locations
Type effectiveness
Bold indicates either a 4x weakness or a 4x resistance, depending on the column.
Damaged normally by:
Weak to:
Immune to:
Resistant to:

Poison

Rock

Bug

Steel

Psychic

Dragon

Fairy

Flying

Ghost

Fire

Ice

Dark

Cosmic

Normal

Fighting

Ground

Water

Grass

Electric

Digital
Learnset
Bold indicates a move that will receive STAB when used by Skeleteak.
Italic indicates a move that will receive STAB when used by an evolution of Skeleteak.
By leveling up
| Level | Move | Type | Cat. | Pwr. | Acc. | PP |
| --- | --- | --- | --- | --- | --- | --- |
| 1 | Destiny Bond | | Status | - | - | 5 |
| 1 | Head Smash | | Physical | 150 | 80 | 5 |
| 1 | Horn Leech | | Physical | 75 | 100 | 10 |
| 1 | Wood Hammer | | Physical | 120 | 100 | 15 |
By TM/HM
| TM/HM | Move | Type | Cat. | Pwr. | Acc. | PP |
| --- | --- | --- | --- | --- | --- | --- |
| TM04 | Calm Mind | | Status | - | - | 20 |
| TM06 | Toxic | | Status | - | 90 | 10 |
| TM08 | Bulk Up | | Status | - | - | 20 |
| TM09 | Bullet Seed | | Physical | 25 | 100 | 30 |
| TM10 | Hidden Power | | Special | - | 100 | 15 |
| TM11 | Sunny Day | | Status | - | - | 5 |
| TM12 | Taunt | | Status | - | 100 | 20 |
| TM15 | Hyper Beam | | Special | 150 | 90 | 5 |
| TM17 | Protect | | Status | - | - | 10 |
| TM19 | Giga Drain | | Special | 75 | 100 | 10 |
| TM21 | Frustration | | Physical | - | 100 | 20 |
| TM22 | Solarbeam | | Special | 120 | 100 | 10 |
| TM23 | Iron Tail | | Physical | 100 | 75 | 15 |
| TM26 | Earthquake | | Physical | 100 | 100 | 10 |
| TM27 | Return | | Physical | - | 100 | 20 |
| TM28 | Dig | | Physical | 80 | 100 | 10 |
| TM30 | Shadow Ball | | Special | 80 | 100 | 15 |
| TM31 | Brick Break | | Physical | 75 | 100 | 15 |
| TM32 | Dark Pulse | | Special | 80 | 100 | 15 |
| TM36 | Sludge Bomb | | Special | 90 | 100 | 10 |
| TM39 | Rock Tomb | | Physical | 60 | 95 | 15 |
| TM41 | Stone Edge | | Physical | 100 | 80 | 5 |
| TM42 | Facade | | Physical | 70 | 100 | 20 |
| TM43 | Nasty Plot | | Status | - | - | 20 |
| TM44 | Rest | | Status | - | - | 10 |
| TM46 | Thief | | Physical | 60 | 100 | 10 |
| HM01 | Razor Chop | | Physical | 40 | 100 | 30 |
| HM04 | Strength | | Physical | 90 | 95 | 15 |
| HM06 | Rock Smash | | Physical | 40 | 100 | 15 |
By breeding
| Move | Type | Cat. | Pwr. | Acc. | PP |
| --- | --- | --- | --- | --- | --- |
| Synthesis | | Status | - | - | 5 |
| Leech Life | | Physical | 20 | 100 | 15 |
| Ingrain | | Status | - | 100 | 20 |
| Magical Leaf | | Special | 60 | - | 20 |
| Clear Smog | | Special | 50 | - | 15 |
| Bullet Seed | | Physical | 25 | 100 | 30 |
| Giga Drain | | Special | 75 | 100 | 10 |
| Power Whip | | Physical | 120 | 85 | 10 |
| Weather Ball | | Special | 50 | 100 | 10 |
| Worry Seed | | Status | - | 100 | 10 |
| Acid Spray | | Special | 40 | 100 | 20 |
| Earth Power | | Special | 90 | 100 | 10 |
By Move Tutor
| Move | Type | Cat. | Pwr. | Acc. | PP |
| --- | --- | --- | --- | --- | --- |
| Mega Punch | | Physical | 80 | 85 | 20 |
| Swords Dance | | Status | - | - | 20 |
| Mega Kick | | Physical | 120 | 75 | 5 |
| Body Slam | | Physical | 85 | 100 | 15 |
| Double-Edge | | Physical | 120 | 100 | 15 |
| Counter | | Physical | - | 100 | 20 |
| Seismic Toss | | Physical | - | 100 | 20 |
| Mimic | | Status | - | 100 | 10 |
| Dream Eater | | Special | 100 | 100 | 15 |
| Rock Slide | | Physical | 75 | 90 | 10 |
| Substitute | | Status | - | - | 10 |