Snole
Snowball Pokémon

Basic Info

Type
Abilities
Scrappy

Ice Body

Evolves From
None
Evolves Into
Arctung

Additional Info

Held Items
None
Egg Groups
Field
Hatching Time
~5355 steps
Catch Rate
195
Gender Ratio
75% male
Height
0.5 m
Weight
5 kg
Leveling Rate
Medium-Fast
Base XP Yield
152
EV Yields
+1 Attack
Pokédex Color
White
Snole is an Ice-type Pokémon. It evolves into Arctung starting at level 35. Additionally, if the player has a spare slot in the party, a Tumick will appear in the player's party when Snole evolves. Tumick then evolves into Tumeistor when exposed to a Dusk Stone.
Pokédex entry
From birth, a tumor is growing out of their brain, giving them weak psychic abilities.
Base stats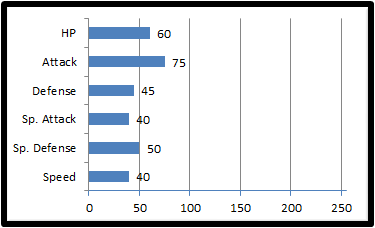 Base Stat Total: 310
Game locations
Type effectiveness
Bold indicates either a 4x weakness or a 4x resistance, depending on the column.
Damaged normally by:
Weak to:
Immune to:
Resistant to:

Normal

Flying

Poison

Ground

Bug

Ghost

Water

Grass

Electric

Psychic

Dragon

Dark

Fairy

Fighting

Rock

Steel

Fire

None

Ice

Cosmic

Digital
Learnset
Bold indicates a move that will receive STAB when used by Snole.
Italic indicates a move that will receive STAB when used by an evolution of Snole.
Moves by leveling up

| Level | Move |
| --- | --- |
| 1 | Pound |
Moves by TM/HM

| TM/HM | Move |
| --- | --- |
| TM01 | Moonblast |
Moves by breeding
Move
Pound
Community content is available under
CC-BY-SA
unless otherwise noted.