Talielle
Princess Pokémon

Basic Info

Type
Abilities
Fairy Aura
Evolves From
None
Evolves Into
None

Additional Info

Held Items
Chesto Berry
Egg Groups
Human-Like

Fairy

Hatching Time
~9180 steps
Catch Rate
45
Gender Ratio
100% female
Height
1.6 m
Weight
59.8 kg
Leveling Rate
Slow
Base XP Yield
154
EV Yields
+2 Sp. Attack
Pokédex Color
Pink
Talielle is a Fairy-type Pokémon. It is not known to evolve from or into any other Pokémon.
Pokédex entry
Talielle are very concerned with their looks and become distressed if they don't get their beauty sleep.
Base stats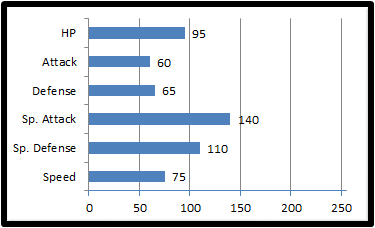 Base Stat Total: 545
Game locations
Routes 12 and 16. (Only two)
Type effectiveness
Bold indicates either a 4x weakness or a 4x resistance, depending on the column.
Damaged normally by:
Weak to:
Immune to:
Resistant to:

Normal

Flying

Ground

Rock

Ghost

Fire

Water

Grass

Electric

Psychic

Ice

Fairy

Digital

Poison

Steel

Dragon

Fighting

Bug

Dark

Cosmic
Learnset
Bold indicates a move that will receive STAB when used by Talielle.
Italic indicates a move that will receive STAB when used by an evolution of Talielle.
By leveling up
| Level | Move | Type | Cat. | Pwr. | Acc. | PP |
| --- | --- | --- | --- | --- | --- | --- |
| 1 | Fairy Wind | | Special | 40 | 100 | 15 |
| 4 | Yawn | | Status | - | 100 | 10 |
| 7 | Charm | | Status | - | 100 | 20 |
| 10 | Attract | | Status | - | 100 | 15 |
| 13 | Sweet Kiss | | Status | - | 75 | 10 |
| 18 | Wish | | Status | - | 100 | 10 |
| 21 | Charming Cry | | Special | 60 | - | 20 |
| 27 | Sleep Talk | | Status | - | - | 10 |
| 30 | Rest | | Status | - | - | 10 |
| 36 | Lovely Kiss | | Status | - | 75 | 10 |
| 38 | Drain Kiss | | Special | 75 | 100 | 10 |
| 41 | Heal Bell | | Status | - | - | 10 |
| 45 | Perish Song | | Status | - | - | 5 |
| 49 | Dazzle | | Special | 90 | 100 | 10 |
| 53 | Refresh | | Status | - | 100 | 20 |
| 57 | Heal Pulse | | Special | - | - | 10 |
By TM/HM
TM/HM
Move
Type
Cat.
Pwr.
Acc.
PP
TM04
Calm Mind

Status
-
-
20
TM06
Toxic

Status
-
90
10
TM10
Hidden Power

Special
-
100
15
TM15
Hyper Beam

Special
150
90
5
TM16
Light Screen

Status
-
-
30
TM17
Protect

Status
-
-
10
TM18
Rain Dance

Status
-
-
5

TM

20
Safeguard

Status
-
-
25
TM21
Frustration

Physical
-
100
20
TM27
Return

Physical
-
100
20
TM29
Psychic

Special
90
100
10
TM33
Reflect

Status
-
-
20
TM42
Facade

Physical
70
100
20
TM44
Rest

Status
-
-
10
TM48
Focus Blast

Special
120
70
5
TM49
Hyper Voice

Special
90
100
10
By breeding
| Move | Type | Cat. | Pwr. | Acc. | PP |
| --- | --- | --- | --- | --- | --- |
| Snore | | Special | 50 | 100 | 15 |
| Sing | | Status | - | 55 | 15 |
| Hypnosis | | Status | - | 60 | 20 |
| Recover | | Status | - | - | 10 |
| Encore | | Status | - | 100 | 5 |
| Helping Hand | | Status | - | 100 | 20 |
| Aura Sphere | | Special | 80 | - | 20 |
| Energy Ball | | Special | 90 | 100 | 10 |
| Round Eyes | | Status | - | 100 | 30 |
| Healing Wish | | Status | - | - | 10 |
By Move Tutor
| Move | Type | Cat. | Pwr. | Acc. | PP |
| --- | --- | --- | --- | --- | --- |
| Substitute | | Status | - | - | 10 |